What is composting?
🔎 Compost is an organic fertilizer formed due to the decomposition of organic matter by microorganisms 🍏
📌 With the help of composting, household organic waste can not be disposed of in the general landfill, but used and get organic fertilizer and even soil 🍎
Composting is becoming more and more confident in our lives, because it can not only improve your health, but also increase yields 🌱🌾
🟡 adding compost to the soil improves its quality, so it can help reduce soil erosion
🟡 composting of organic waste leads to a reduction of landfill areas
🟡 compost is a habitat of many species of microorganisms, earthworms, which further improve the quality of the soil, and as a result - yield
🟡 adding compost reduces the acidity and / or alkalinity of the soil
🟡 Compost is an excellent organic fertilizer
🟡 Toxic gases and methane are released due to the decay of organic matter in landfills: composting can reduce this problem
🟡 use of compost as a pesticide reduces the negative impact of chemicals on soils and prevents them from entering the water
How can you compost in a private home 🏡⬇️
You can compost in the following conditions:
✅ private house
✅ streets
✅ apartments
What is needed for this?
1. Composting requires a special composter (it can be plastic, you can knock it off the usual boards, and you can bury the organic matter immediately in the soil) 🛢✅
2. The composting site should be no closer than 15 meters from the source of drinking water 🚰 in partial shade to prevent the compost from drying out and to be well ventilated 💡
3. The height and width of the compost mass should not exceed 100 - 150 centimeters, length - without restrictions.
4. Shredded leaves of different species of trees should be mixed with soil, manure or ready-made compost in a ratio of 2: 1 🍂🍃
5. It is necessary to add to a mix kitchen waste, the mown grass or a little nitrogen fertilizer (for example, chicken manure) (
6. Everything should be laid in layers no thicker than 15 centimeters. Too thick a layer of some material slows down the composting process.
7. If you want to get fertilizer from the compost heap as soon as possible, it is desirable to grind the remains, and the compost itself should be mixed and watered more often 🥣🚿
How can you compost in an apartment? 🍎🍏
🧤 The easiest way is to buy a mechanical apartment composter and maintain it in good condition.
☝🏼 But there is another option.
1. You will need:
⁃ a small plastic bucket with a lid that closes tightly
⁃ land
⁃ spray with clean water
⁃ concentrate with EM (effective microorganisms), which accelerates the decomposition of organic matter and neutralizes odors and prevents rot
2. 📝 You should add one tablespoon of EM per liter of water. This will be your solution for spraying organic waste 🚿
3. You need to put a layer of organic matter in a bucket, spray with a solution and sprinkle with earth. The procedure should be repeated until the bucket is full. The lid should not be tightly closed during composting, as the compost may "suffocate"
💁🏻‍♀️ They are also experimenting with two buckets: in one of which holes are made to drain the compost juice, which can be used to feed houseplants. Then the technology is the same as with one bucket.
What should compost be like?
❗️ It is worth remembering that quality compost has:
🟤 earthy color
🟤 crumbles well
🟤 no putrid odor
🟤 plant remains are completely decomposed
🟤 no weed seeds
🟤 humidity from 40% to 60%.
What can be composted and what can't?
What NOT to compost:
🔴 Meat and fish.
🔴 Drinks (juices, compotes, soups, sour milk and dairy drinks, etc.).
🔴 Bones.
🔴 Citrus peel (but it can be dried and in the summer to make an infusion that scares away pests).
🔴 Walnut shell.
🔴 Any oil.
🔴 Faeces (including animals that can be infected with helminths).
What CAN be composted:
🟢 Vegetable peels, fruit peels and husks (onions, seeds).
🟢 Eggshell.
🟢 Porridge.
🟢 Stale bread.
🟢 Leftover tea and coffee.
🟢 Paper napkins (without picture).
And in the form of infographics 😉 (taken from pages of the NGO "Ecosphere")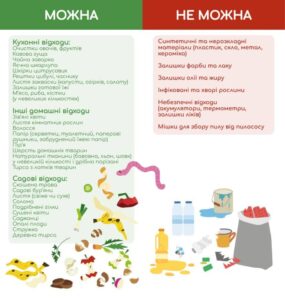 We compost together ♻️
Let's make Ukraine clean again 💚
The text was prepared by: Anastasia Krivonogova.
The article is based on the following material. 
The photo on the screensaver is borrowed from https://www.nbcnews.com/shopping/eco-friendly/best-compost-bins-n1188966