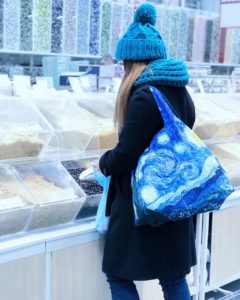 Shopping
To make the holiday more environmentally friendly, you need to start with preparation. Before shopping, make a list of what you need. This will help you avoid unnecessary purchases and expenses. 
Reduce the number of packages or refuse altogether. Buy products in your own packaging (eco-bags, bags, sudochki - many options). It is better to take sweets by weight and without wrappers, because candy wrappers are not processed. If you can not refuse the packaging - prefer the product in recycled packaging (for example, ketchup is better to choose in a glass bottle than in our usual plastic)
Tree
"Artificial or natural?" - this issue is raised every year before the New Year holidays. According to official data, about 5 million Christmas trees are cut down in Ukraine every year before the New Year holidays. It is difficult to imagine how many of them are poaching. Therefore, it is definitely worth giving up a living tree, because it should not be returned to nature. But artificial Christmas trees are also not welcomed by environmentalists: the material from which they are made, is not recyclable. In addition to buying an artificial Christmas tree, you can use one of the creative ideas and create your own Christmas tree. Christmas trees from books, edible, from paper, from a ladder, a Christmas tree-shelf - all these are alternatives for a more ecological holiday tree.
Decor
Eco-trees need eco-decorations. Replace raincoat, plastic toys and sequined jewelry. Rain and toys are made of non-recyclable plastic. And sequins are microplastics that actively crumble when touched. It is even easier to get into our ecosystem and even easier to spread through it.    
The most ecological decorations are edible. For example, cookies that can decorate a Christmas tree and a Christmas table. Also use natural materials: dried citrus and cinnamon, wooden and paper toys. 
Most things that are designed for Christmas can be reused. There are still decorations, ornaments, a Christmas tree and even banners - use them this year. And think about the following - to make a banner or photo area universal so that it can be used every year. 
Gifts
Gifts are part of the tradition and a way to show care without words. They will remind your loved one of you. But the question is "which gift to choose?" always occurs on the eve of the holidays.
First, give what the person needs. If you choose a gift for a child - ask to write a letter to St. Nicholas or Santa Claus. Then you will learn what the child wants and keep the festive atmosphere.
As for a gift for an adult, you can directly ask a friend or relative what he wants. If this is not possible - we share ideas for eco-gifts.
What to give to children?
Sweet gifts are perhaps the most popular for the Christmas holidays. These can be candy, chocolate, chocolate figures, cakes, cookies, marmalade. To make it truly environmentally friendly - buy in your packaging or create your own sweet gift.
Toys will always be a win-win situation. Their range is now impressive: various dolls, cars, constructors, soft toys. The main thing is to choose durable toys. This way the child will be able to play with them, and when he grows up - to pass them on to someone else. You can also choose wooden or paper educational toys. Pay attention to the license and markings here.
A book is the best gift! For the little ones you can choose a coloring book, for preschoolers - about animals or an encyclopedia, and for schoolchildren - adventure works and science fiction. The main thing is that the book meets the interests of the child. This gift can be more environmentally friendly, for example, if it is an electronic or audiobook.
What to give adults?
Adults, like children, dream of gifts, even if it is a small gift. Who to give?
Ecobags and bags
If one of your friends and family does not yet have a comfortable eco-bag, then this is the perfect gift. And if you already have, then choose small bags. They all differ in design, material and color, are with a bright print and minimalist, larger and smaller, with a zipper and standard.
You can wear such bags (and even very stylish!) As a stand-alone accessory that will fit perfectly into the everyday image of a guy or a girl, and in case of unplanned purchases, folded in its small bag. With them you can easily refuse packages in the supermarket.
Lunch boxes
We put food in disposable utensils and bags, right? Then give a multiple lunch boxing or lunch run. They will retain heat and will not allow "salad" sauce to leak into the bag.
Lunch boxes have long been part of American culture, which has not yet taken root in our country. It's a pity, because they are really very comfortable, perfectly protect the backpack from stains and the smell of food, have many different sizes and designs, but most importantly - allow us to get rid of the use of disposable bags.
Teapots for tea
Each tea bag is a small piece of plastic that pollutes our planet and decomposes for thousands of years. It is better to buy loose tea and brew in a cup. In case you don't like floating tea leaves in a cup, reusable silicone teapots will be a great, environmentally friendly way out of this situation.
They have an interesting design and will look cool in a transparent cup.
Thermo cups
If suddenly your family does not have a favorite thermal cup, it will be a wonderful and environmentally friendly gift. The cup can be chosen for every taste.
So, be aware, buy yourself a thermo cup and give it to your friends! Save hundreds of disposable cups on the planet.
Eco fur coats 
Do you want to give a fur coat to your beloved girl? Then choose an eco-fur coat from hemp! Ukrainian textile company Devohome has created fur based on non-woven hemp fiber, which resembles raw sheepskin. The advantage of this hemp coat is lightness and cold resistance.
Teaching
An online course or offline training that will help career growth or hobby development. It is always a great gift for a person who wants to develop.
And whoever it is - give the impression! Organize a joint trip or a gala dinner with Christmas movies and cocoa. If you are far away, a long-awaited meeting will be a good gift. Tobogganing, skiing or skating is an interesting winter fun that will add a festive atmosphere to everyone's life.
Also pay attention to the packaging. Pre-holiday gift wrapping materials can be found in almost every store. However, it is better to use natural or those that are already at home. Good-looking packaging using Christmas tree twigs, cones and paper. Recently, the Japanese method of wrapping in paper without gluing is popular - this allows you not to use tape or glue. Of course, packaging is not the main thing, but it can once again remind you of the care and warmth with which the gift was prepared.
And if the person has not been obedient all year, then give a sharpener. But do not pluck from the tree, and take the one that has already fallen. 
Dinner 
Buy and cook as much as you can eat. First, overeating is very detrimental to health. And our favorite "eating" after the holidays can end badly, because the products spoil quickly. Secondly, after the New Year holidays, many products end up in the trash. Even excluding Christmas and other holidays, on weekdays 30% of food is thrown in the trash. Food waste forms 8% of greenhouse gases. One third of the world's territory is used to grow food that ends up in landfills. If you throw 1 kg of beef in the dump - 50 thousand liters of water are wasted. The same is true of other foods of both animal and vegetable origin, albeit to a lesser extent.
Prefer local products - this will reduce emissions during transportation. And buying products closer to home, you reduce the amount of emissions from transport (which can not be avoided when traveling to the supermarket). Also, choose only licensed products on your table, as unlicensed ones can be poaching and can harm your health. 
Reduce the amount of meat at dinner. Of course, to arrange a vegan New Year's dinner with people who are able to feel the atmosphere of the holiday only with the presence of meat - is unrealistic. But to replace some dishes with their vegetarian counterparts is quite real.
Do not use disposable utensils on the table and do not forget to sort.
Cleaning
Before the New Year is just a season of general cleaning. How to make cleaning more useful not only for yourself but also for nature? Replace household chemicals with natural substitutes, such as baking soda, vinegar or eco-certified products. In terms of ecological household chemicals, it is worth paying attention to those awarded the Green Awards Ukraine.
Also, free yourself from the negative emotions that have accumulated in old things. But you should do it responsibly: find the nearest reception point and take there stacks of used paper, packaging from cosmetics, stuffed and cracked glassware. 
Donate things you no longer need to charity. Those that are in good condition can be seen in charity shops. Unsuitable items will come in handy in animal shelters - there they are used for insulation, and bedding - for animal bedding.
What to wear?
It is customary to buy new things before the new year, but is it really necessary? 
It is not necessary to buy new things for the new year. Feel free to wear your only Christmas sweater or last year's dress. Are you at home with relatives? Have a pajama party.
If you want to update your wardrobe, you can reform old things, decorate or paint. Or visit a charity that sells used items. 
This saves the Earth's resources. For example, if you buy a used T-shirt or shirt, you save 2,700 liters of water, which is necessary for its production.  
Energy
Today, the use of energy efficient technologies and energy saving is beneficial not only economically but also environmentally.  Especially during the Christmas and New Year weekends, when the Christmas tree shines, something is being prepared on all the hotplates of the stove and oven, and the reception ends in the morning. You do not want to change these Christmas traditions, but you can come up with some other good habits or alternatives.
Replace conventional incandescent bulbs with energy-saving ones if you have not already done so. Do not use halogen garlands - it is better to choose energy-saving ones. Including Christmas tree lights, leave a minimum of main light, especially since it is easier to immerse yourself in the festive atmosphere. Create a romantic atmosphere in the house with the use of candles. Prepare dishes by covering them with a lid - so they cook faster by retaining heat and will be much tastier. Pour exactly as much water into the kettle as you need - so it will not use extra energy to heat excess water. When solving the problem of heating, do not turn on the heaters in the house to the full - it will definitely affect the bill later, and you can avoid this by wearing a Christmas sweater or wrapped with a loved one in a warm blanket.
Eco-planning
When planning for next year, do not forget to acquire new eco-habits. This list is special for everyone, so look at your life, think that you can green. For example, avoid buying plastic bags, replace all lamps with energy-saving ones, sort, use organic cosmetics, etc.
With the upcoming holidays, spend them for the benefit of yourself and nature