We call on Ukrainians to a new daily eco-habit - digital cleaning, which will save electricity, reduce greenhouse gas emissions and have a positive impact on the economic benefits of each family. In just one day, hundreds of Ukrainians removed more than 3,000 GB of digital junk.
The action has already been supported by Honored Artist of Ukraine, singer, producer Natalka Karpa, host of "Morning with Ukraine" Maria Melnyk, artist Lana Kaufan, singer Pasha Mentions.
"We encourage everyone to regularly do 10-minute cleaning challenges, clean their phones, computers, e-mails and cloud storage. Delete redundant information, reduce its production - organize your digital workspace so as to consume less electricity and memory on devices ", - comments the President of the All-Ukrainian youth movement "Let's do it Ukraine" Yulia Markhel. 
Information support of the event was provided by the Ministry of Environment and Natural Resources of Ukraine, the Department of Youth Policy of the Ministry of Youth and Sports, the Department of Ecology and Natural Resources of the Kyiv City State Administration, the Ukrainian State Center for Extracurricular Education, the All-Ukrainian Youth Center, the National Youth Council of Ukraine. and a number of public organizations throughout Ukraine.
The problem of digital waste is becoming increasingly important. About 62 trillion spam emails are sent each year, requiring the use of 33 billion units of electricity and emitting 20 million tons of CO2 per year. Sending a billion e-mails consumes as much greenhouse gas as 3 million cars. Email is not the only source of pollution. All unused files, programs, spam lists, cluttered cloud storage - in the end become a source of carbon dioxide released into the atmosphere.
"Let's do it Ukraine" has prepared instructions that will allow you to organize a short digital cleaning at any time. 10 minutes of digital cleaning today will reduce the amount of resources consumed and CO2 emissions tomorrow.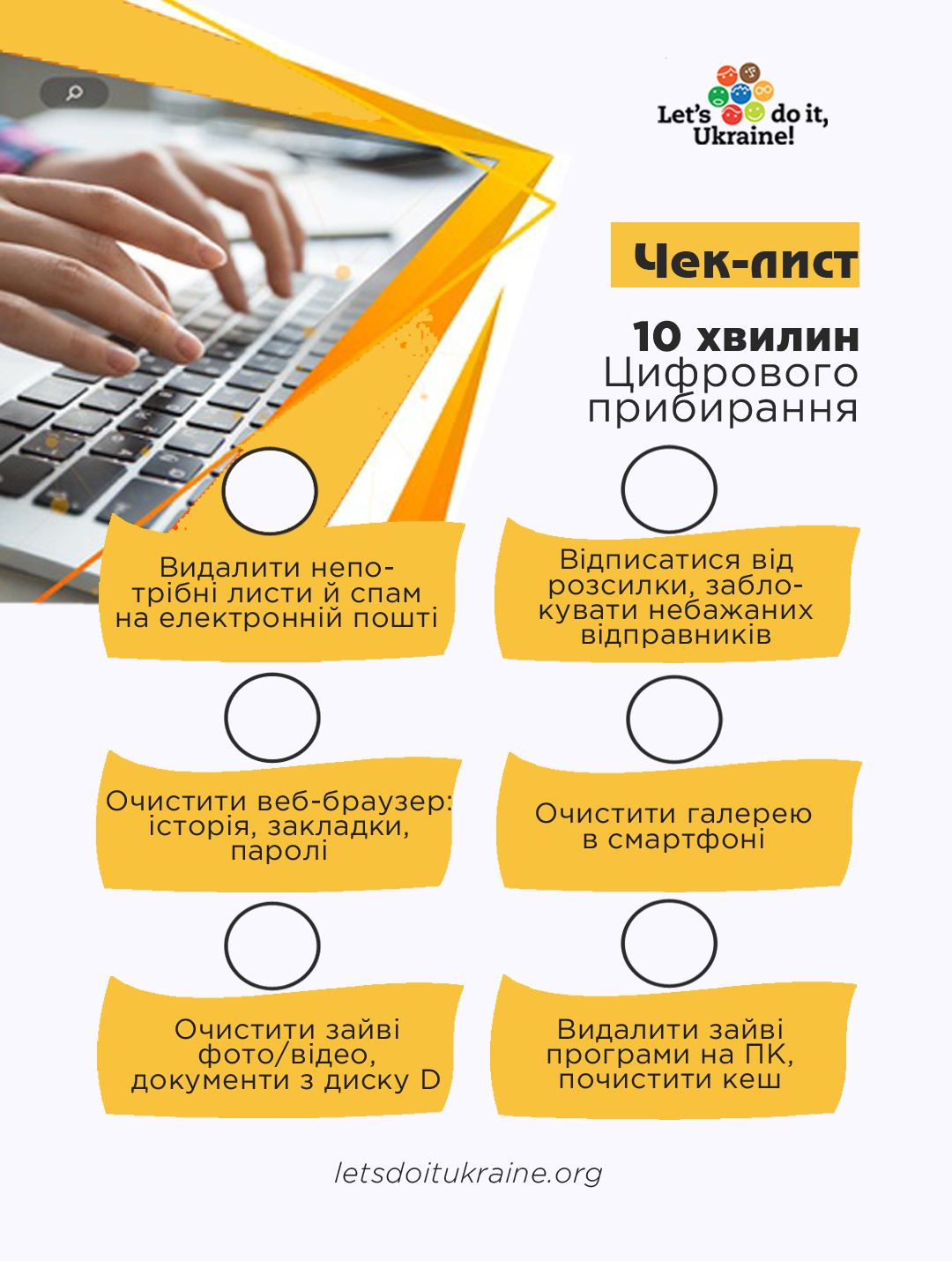 Be an example, post the results of your digital cleaning on social networks with the hashtags #digitalcleanup #digital cleaning #seen #letsdoitukraine #letsdoitworld, thus motivating not only family or friends but also the general public.
Find out more at letsdoitukraine.org, www.digitalcleanupletsdoitukraine.netlify.app and in social networks: https://www.facebook.com/letsdoitukraineeco, www.instagram.com/letsdoitukraine