Christmas and New Year holidays are approaching. And along with the holidays, the garbage increases. And here the question arises, how to spend your celebration more environmentally friendly? Interesting? Let's get started!
In any case, follow the rules Zero waste: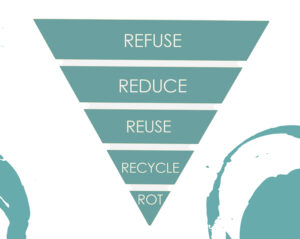 REFUSE - Say no. Avoid reckless shopping, give up unnecessary things. Implementing this item will help you not only to avoid the accumulation of unnecessary things, but also to learn how to save money.
REDUCE - reduce consumption. If you can't give up completely, reduce your use. For example: you can reduce the number of meat dishes on the table, or reduce the time of use of garlands, thus saving electricity.
REUSE - reuse. Use what you already have: decorations, a toy, a Christmas tree, maybe you already have some products in the freezer.
RECYCLE - sort and send for processing. During the holidays, do not forget to sort, and if you do not have such a habit, it's time to acquire it. When else to start, if not in the new year? And sorting can be interesting entertainment at the celebration, especially in the most courageous moments.
ROT - honestly compost organic waste. If you have the opportunity to compost organic waste, it will also help to reduce the amount of garbage that enters the landfill during the holidays.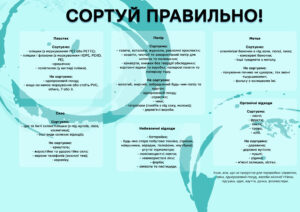 Let's move on to the holidays themselves
Any holiday, any scale consists of 3 parts:
1. Preparation
2. Celebration (event)
3. Completion (cleaning or dismantling)
Preparation
Shopping
make a list in advance. This will help you avoid unnecessary purchases and expenses
if you go to the store for groceries go eat
give preference to local producers
buy only licensed products. Unlicensed goods can be poached and can harm your health
buy products in your own packaging (eco-bags, bags, sudochki - many options)
it is better to take sweets by weight and without wrappers, because wrappers from candies "shurshiki" are not processed

🍪

if you can not refuse packaging, prefer the product in recycled packaging (for example, ketchup is better to choose in a glass bottle than in our usual plastic)
The holiday table
Cook as much as your company you are celebrating with can eat
Prefer plant-based products. Meat production is not very environmentally friendly, so try to reduce meat consumption. Especially if you already have a turkey for 4-5 people, then cook more cutlets, chops, etc. it is not necessary, because everything will simply not be eaten.
Use reusable utensils. If you are celebrating in a company and you do not have enough reusable utensils, ask everyone to bring a plate / fork / spoon / cup. It is not very difficult and will help to avoid non-recyclable waste.
Decor
Use the jewelry that you already have. If you need to buy something new, think ahead so you can use them for the next holidays. For example: if you print a banner, make it universal, without the inscription of the year.
Natural jewelry with your own hands is also a good choice. Can make themselves from paper, wood, straw or natural fabric. With regard to paper and wood, pay attention to FSC certification - thanks to which you will know that the wood that was used to make the products will recover.
Energy saving lamps and candles
Avoid jewelry with sequins. Glitter is already a microplastic that can crumble and get into the environment.
Tree
If you already have an artificial Christmas tree - do not rush to throw it away, even if it is made of plastic. USE IT AS MANY TIMES AS POSSIBLE.
If you are already buying a Christmas tree. If artificial - then choose certified. If cut - then with a chip, you can check the legality of the chip on the website: https://www.yalynka.info/
You can take conifers in a pot. But for such a plant, you need special care, be careful. You can also rent a Christmas tree or pine in a pot. Such a service is provided by the Klevansky Forestry State Enterprise and the Center for Alternative Landscaping.
Gifts
Ask the person what he or she wants
Pack environmentally friendly
Buy local products
From recycled or easily recoverable materials
Which are not tested on animals and without ingredients of animal origin
And to determine whether to forge a gift you will help mandarka. Just answer "yes" or "no"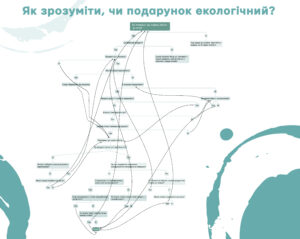 Celebration
Be energy efficient. If you leave the room, turn off the garlands. If you have a lot of extra lighting - you can turn off the main. It will also give the pain of a romantic and festive atmosphere.
Avoid crackers and pyrotechnics. Their tubes are not recycled. Pyrotechnics on New Year's Eve generate 15% of CO2 emissions from all car emissions for the year. And also, it is dangerous for animals.
If you use confetti, then prefer paper. The ones that are so shiny are made of plastic.
Cleaning
Hand over everything possible for recycling
Set aside for next year what you may need
Replace household chemicals with special ones with an eco-certificate or with natural substitutes: soda, vinegar, etc.
I hope that these tips will be useful to you and help you celebrate this New Year without harming the environment.
Congratulations on the upcoming holidays and I wish you that your way of life in 2021 was sustainable and conscious! 
Yours, eco_kseniia